The Town of Coventry welcomes you to our Economic Development and Small Business Resource pages! 
---
The Town of Coventry's Economic Development Commission announces our first Community Gift Card program, "Buy Local", launching today (11/1/23) for the holiday season!  The program is designed to help keep spending local, and promote businesses within the Town of Coventry.  The gift card works like any other cash loaded Mastercard gift card, and can be used within the Coventry town limits.  As a BONUS, the FIRST 200 CARDS purchased will have their activation fee WAIVED!  Please see the following links to read the press release and purchase a card! Also, sign up for email alerts at the bottom of this page to get the most recent news about upcoming Economic Development projects.
Community Gift Card Press Release
https://giverrang.com/gift-card/town-of-coventry-ri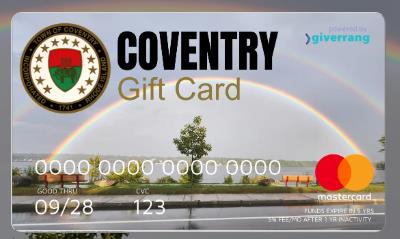 ---
The Town of Coventry's Economic Development Commission partnered with CGI Digital (www.cgidigital.com) to produce several town videos that highlight our community, historical, educational, and economic opportunities.
---
Residents like you have volunteered and been appointed to serve on Coventry's Economic Development Commission to help improve the vitality, opportunities and quality of life for businesses and residents alike.  The EDC, in a new partnership with CGI Digital, is leading a new initiative to promote the Town with quality videos that feature the community assets that make Coventry a great place for business, living and recreation!
Your interest in supporting these efforts is welcome and may be shared with town administrative staff at TownManager@coventryri.gov.
The EDC meets the third Wednesday of the month at 6:30PM, in public session, and welcomes your feedback and comments! Agenda and Zoom details can be found posted on the Secretary of State website.
---
Member JoAnn D'Aurio
Member David Dadekian
Member Craig Pernardo
Member Tim Pimental
Member Dr. Doug DeCubellis
Town Council member Jen Ludwig